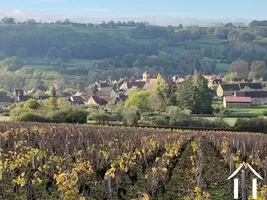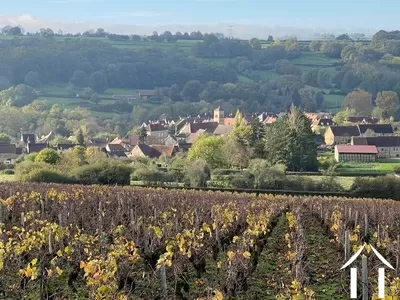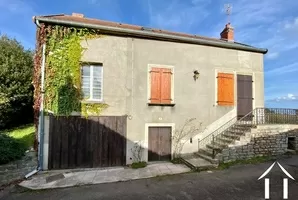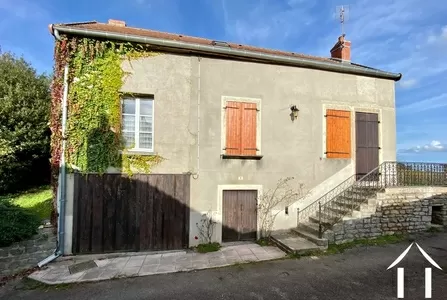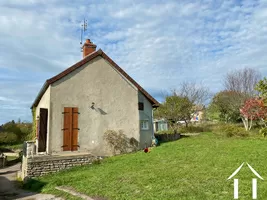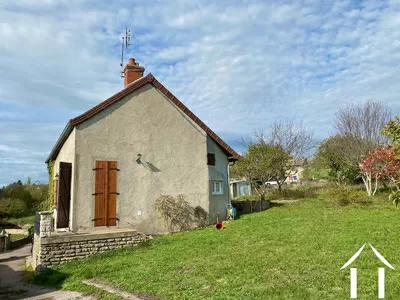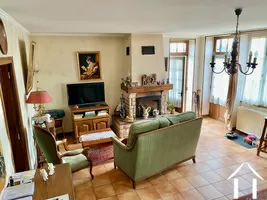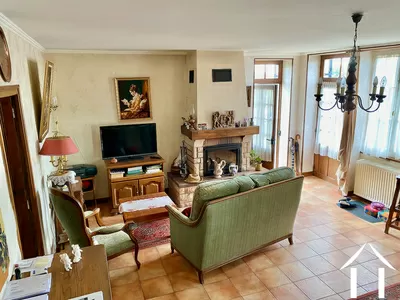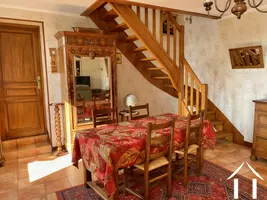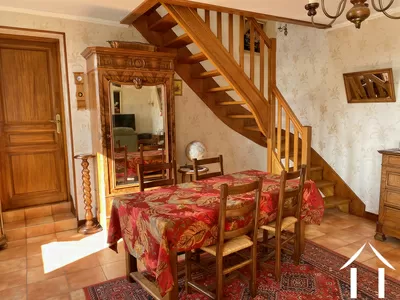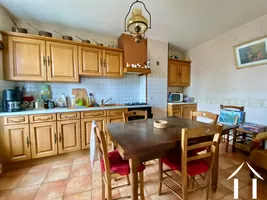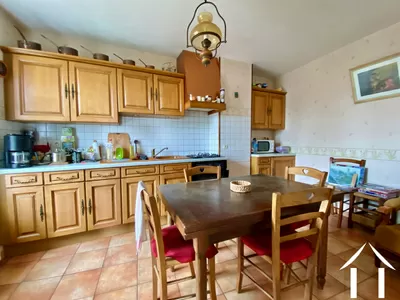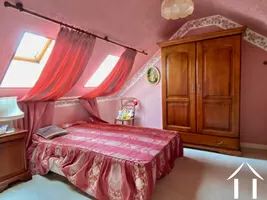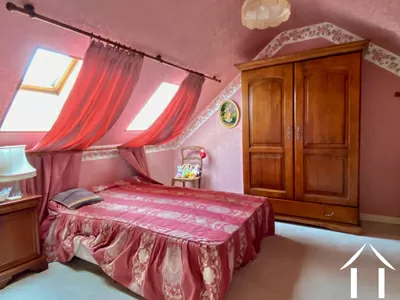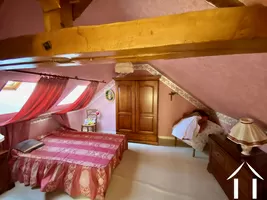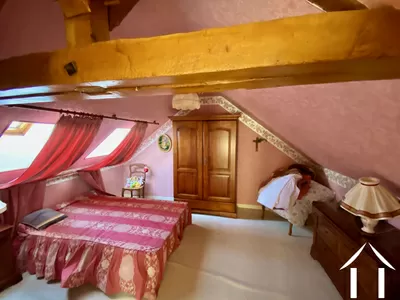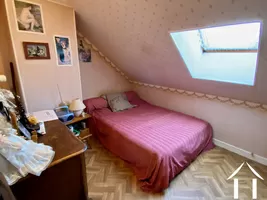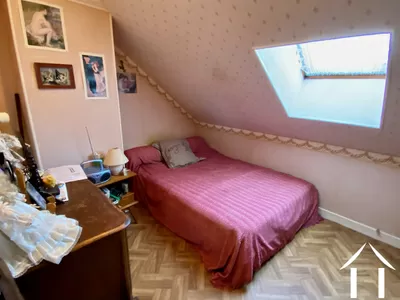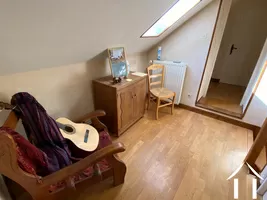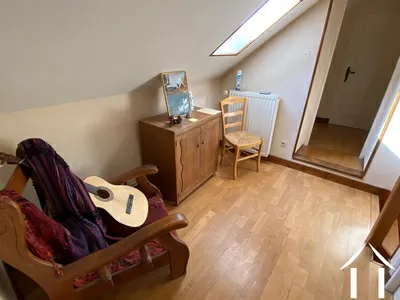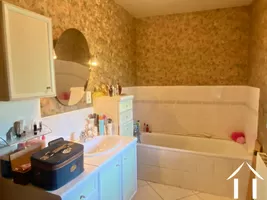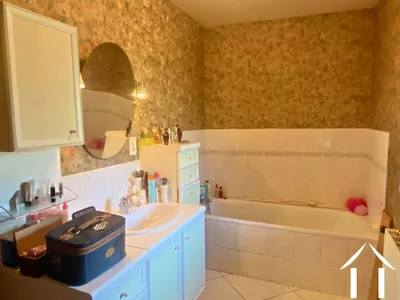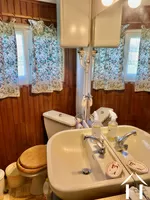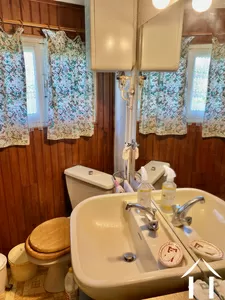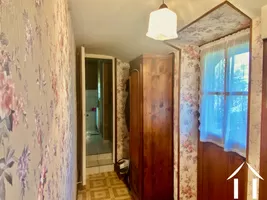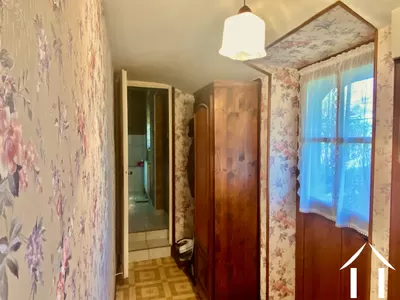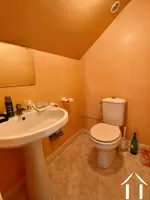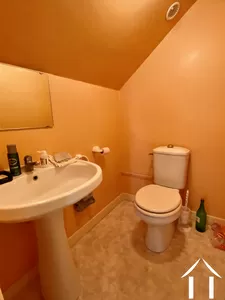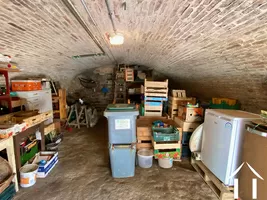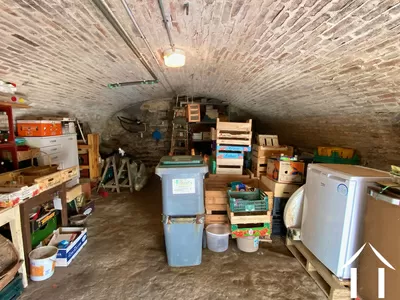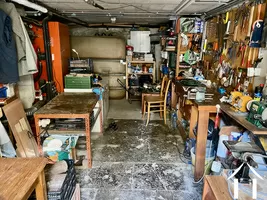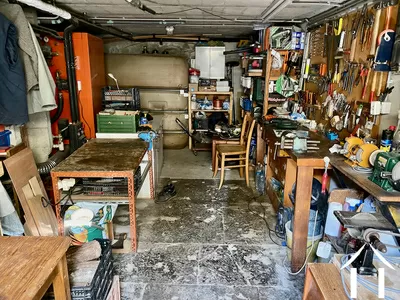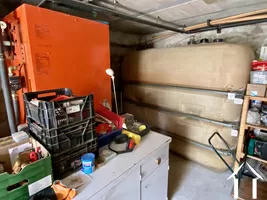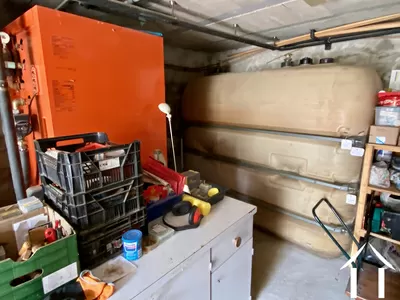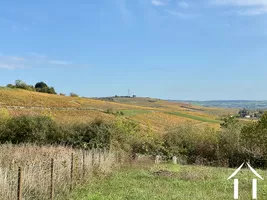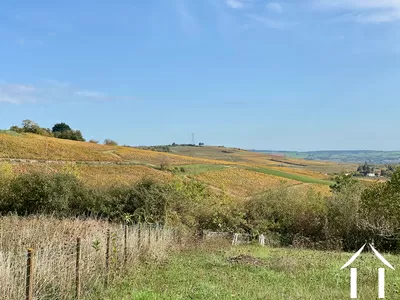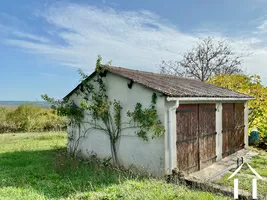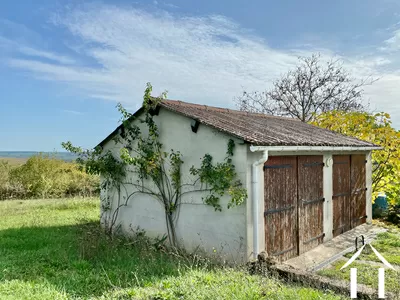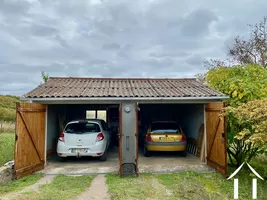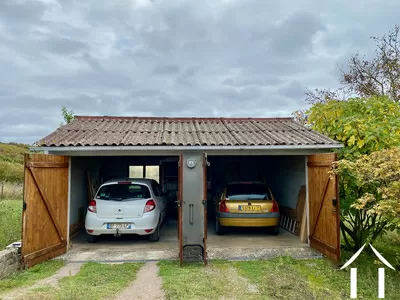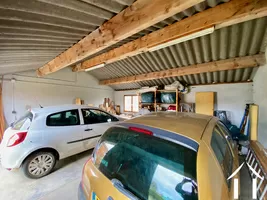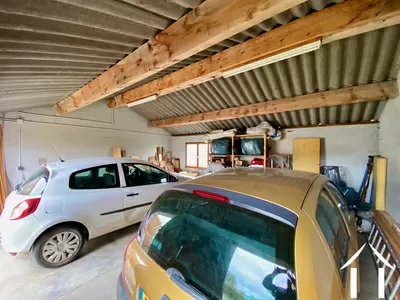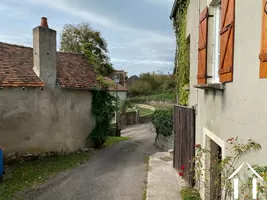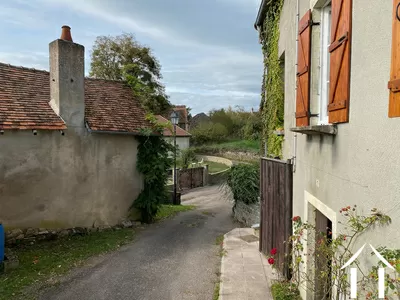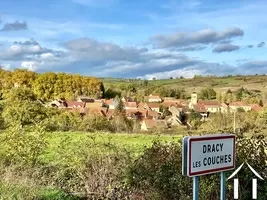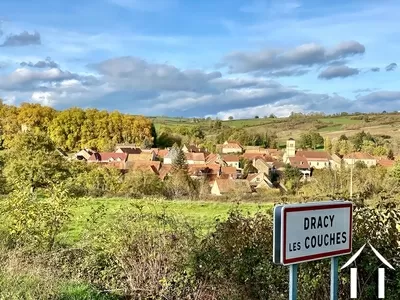 Village house with view of the Couchois vineyards
Ref #: PM5371D
Estate agency fees are paid by the vendor
House for sale DRACY LES COUCHES 71490 SAONE ET LOIRE BURGUNDY
In a magnificent setting, this charming house offers 4 rooms in 90 m2 of living space, a nice vaulted cellar, a workshop and a double garage. 1156 m2 of land at the end of a lively and friendly wine-producing village of the Côtes du Couchois, on the "Route des Grands Vins To be seen very soon.
This is a traditional Burgundy house with an external stone staircase and a small balcony. It has three entrances, two of which are on the L-shaped balcony (one above the access path, the other on the orchard side) and one via the garden at the rear. There is a living/dining room with a fireplace following a fully equipped kitchen. A bathroom and a toilet complete this level. On the first floor there are two bedrooms, a dressing room and a WC.
Like all Burgundy houses, this one is built on a spacious (30 m2) and sound vaulted cellar. A 20 m2 workshop is attached to it, with the boiler and oil tank at the back, and a nice space for DIY or crafts.
The door at the rear of the house gives direct access to the vegetable garden and orchard. There is a metal garden shed and a well.
On the third plot of the property a 28 m2 garage for two cars side by side has been built, with two separate entrances, and a double glazed window overlooking the vines. Finally, leaning against a neighbouring building, a lean-to is used to store wood.
Quality :
The stone house is in very good structural condition, framework, roof and zinc work are in very good condition. The wooden frames, windows and doors are in good condition but are old (single glazing, or double glazing old standard). The parquet floors on the first floor were made by a local craftsman.
Location.
The village of Dracy-lès-Couches is known for its Côtes du Couchois and Maranges appellation wines, and close to the Maranges, Santenay and Côte de Beaune vineyards, with easy access to Beaune and Chalon-sur-Saône. Not far away is Mont Rome-Château at Saint-Sernin-du-Plain, the highest point in the region (543m) to the north-east, and a little further afield is the Mont des Trois Croix overlooking Santenay. Both offer numerous hiking/cycling trails, with paragliding also possible from the latter.
There is an associative café in the village, but there are no shops, they can be found in Couches (3 km away), a medieval village of about 1400 inhabitants, rich in a remarkable architectural heritage, at the crossroads of the main Autun-Chalon and Le Creusot-Nolay-Beaune roads, and at a reasonable distance from the major towns and employment areas. Couches also has a number of infrastructures that are conducive to families settling down: crèche, schools, college, health centre, cultural and sporting activities, theatre, shops, farmers' market, service station, garage. In Saint-Léger-sur-Dheune (8 km or 11 minutes by car) you will find a larger supermarket, as well as in Nolay (another medieval village 12 minutes away by car). Chagny is 24 km or 25 mins away, with its picturesque open Sunday market and a Michelin-starred restaurant.
The Canal du Centre (8 km or 11 minutes by car), offers beautiful scenery and further walking and cycling opportunities on the Voie Verte which runs alongside it. Santenay's new spa centre has recently reopened next to the casino, adding to the spa and therapy clientele of wine lovers who visit the area all year round. Beaune, the capital of Burgundy wines, is 29km or 35 minutes' drive away, and Dijon, the regional capital, is 78km or about 1hr 15mins by car.
Mobility.
The TER station in Chagny is 18 km away and the TGV station in Le Creusot-Montceau is 23 km or 28 minutes drive, with fast connections to Paris (1h 20mn) or Lyon (40 minutes). The nearest international airport is Lyon Saint-Exupéry, 178 km or about two hours away by motorway. Paris is 319 km or 3h 30mins by car and Geneva is 244 km or 2h 45mins.
HIGHLIGHTS:
The view of the vineyards.
A typical Burgundian village house with a vaulted cellar, well maintained, sound, with a lot of charm inside, ready to move in after refurbishment (see below).
Large bathroom on the ground floor and separate toilet.
Quiet, with easy access to Mont Rome and the Trois Croix mountain, the latter overlooking Santenay, with many hiking trails.
The Voie Verte, a renowned cycling and hiking trail along the Canal du Centre, is only 8 km away.
Proximity to Santenay and its new thermal centre and casino at 11 km, Beaune at 29 km.
WEAK POINTS :
Older decoration, refreshment needed.
Dated sanitary facilities.


A file on the environment risks for this property is available at first demand. It can also be found by looking up the village on this website georisques.gouv.fr
Property# PM5371D
Quality

Terraces and balcony surface (m²)
4
Surface outbuildings m²
28
Situation
Situation
Edge of village
Other situation
Nice views
Nearest railway station
Gare TER à Chagny (18km) et TGV à Le Creusot-Montchanin
Distance Railway station (km.)
23
Airport at
Lyon Saint-Exupéry
Extra Features
Parking for number of cars
4
Exterior features
(Wine) Cellar, Fields, Garden, Vegetable garden, Wood storage, Work shop
Other property features
Broadband available
Energy
Heating
Open fire or wood burner, Oil fired
Other features energy
Water well, Electricity connected, Mains water connected
Energy and climate performance
High climate efficiency
E
Consumption
(main energy source)
Estimated annual energy expenditure for average use of the property:
From 1 320 € to 1 850 € expenditure per year
Average energy prices as indexed per 01-01-2001 (standing charges included)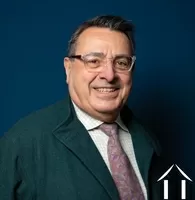 Person managing this property
Pierre Mattot
Téléphone: +33 6 51 88 44 07‬
Address: Couches
E.I. Agent Commercial RSAC Chalon s/ Saône 878 229 822
Couchois, vallée de la Dheune
Saône et Loire
Beautiful landscapes

Rich culture

Year-round activities

Easy acces

Well defined seasons

Renowned food and fine wines
View more