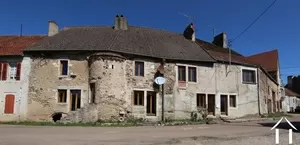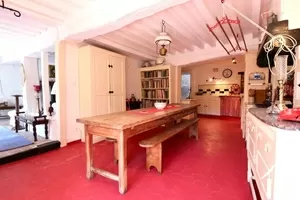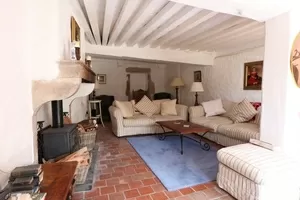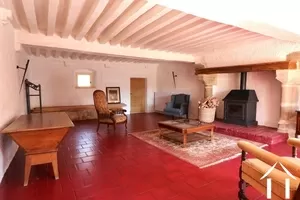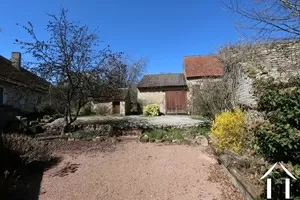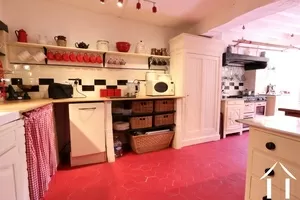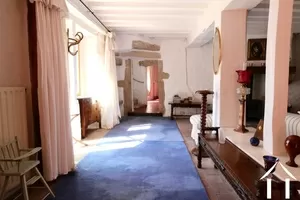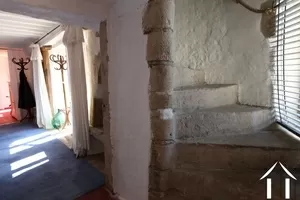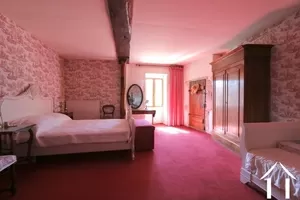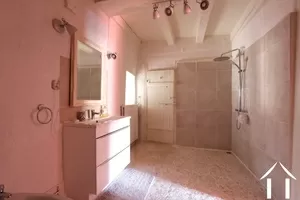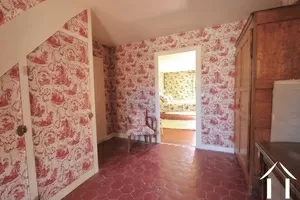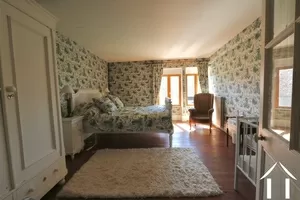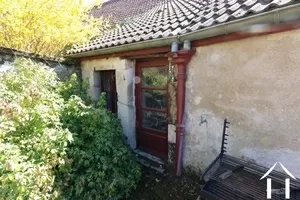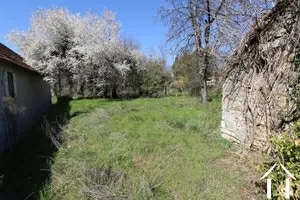 Large house situated in the heart of a village
Ref #: CR5226BS
Estate agency fees are paid by the vendor
Character house for sale MOLINOT 21340 COTE D'OR BURGUNDY
Situated 10 km away from Nolay, this large building of 240 m² with a tower integrated into the facade, immediately habitable, has been renovated in the style of a mansion. No wonder: we are not far from a castle (14th and 18th centuries). With garden and 2 barns at the back + 1 gîte to renovate.
The property consists of 3 adjoining buildings, accessible though three entrance doors. The right door opens into a long dining room, with a French ceiling with oak beams painted in white, octagonal terracota tiles on the floor covered with red paint and an open kitchen at the back. From the kitchen, a door leads to a sheltered airlock that houses a wooden staircase leading upstairs; under the stairs there is a laundry/ boiler room, and a few stone steps offer access to the garden.
The dining room opens onto a large, very bright passage that runs along the living room, followed by the tower with a magnificent spiral staircase that leads upstairs, and then opens onto the ground floor very large bedroom.
The living room with open fireplace, square tiles on the floor, white French ceiling exudes a castle atmosphere. The double glazed door and the window provide the necessary natural light to this deep, slightly dark room.
The bedroom, a large room with painted tiles on the floor, white French ceiling and beautiful fireplace equipped with a very recent wood stove. At the end of this room is an airlock with a space ready to be transformed into a bathroom; a door leads out to the garden.
Climbing up the stairs in the tower, you enter a large room on the left; it is currently being renovated, and has a huge fireplace that is said to come from the local castle. At the back, a French window allows you to exit into the garden by descending a few steps.
Before arriving at this large room, a few steps further down to the right, an old wooden door leads to a red bedroom with carpet on the floor and drapery on the walls. From there you enter a bathroom with WC which opens onto a boudoir with wall hanging, leading to a green bedroom with wall hangings and beautiful old parquet floors.
From the boudoir, a door opens into the very spacious attic with magnificent beams and a second door provides access to the bright landing of the wooden staircase that leads to the kitchen.
The courtyard and the garden are on different levels. In the center there are 2 barns and a stone garden shed. The garden is planted with fruit trees. There is acces for cars on the side of the courtyard from the street side.
A small adjoining building on the right side has 3 levels and is accessible from the street and from the garden; this house is currently being renovated as a gîte.
Property# CR5226BS
Quality

Surface outbuildings m²
50
Situation
Nearest railway station
Beaune
Distance Railway station (km.)
25
Airport at
Lyon- Saint-Exupéry
Extra Features
Estate council tax
1 000 €
Exterior features
Courtyard, Garden, Work shed / Barn, Extension possibility
Energy
Heating
Open fire or wood burner, Gas bottle fired
Energy and climate performance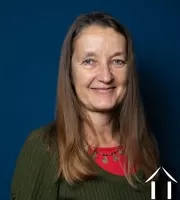 Person managing this property
Caroline Rouxel
Téléphone: +33 789418865
Address: Meursault
Agent commmercial Dijon : 434 907 077
Vignes et Beaune
Côte d'Or
Beautiful landscapes

Rich culture

Year-round activities

Easy acces

Well defined seasons

Renowned food and fine wines
View more